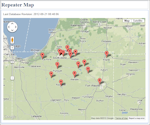 Distances displayed are from Bremen, IN to the listed repeater location. As we obtain coordinates for each repeater, distances will be more accurate.
Sort by clicking any column title. If the repeater has a website, click Yes to open the
website in a new window. Click the Owner's Callsign to search the FCC database.
Click the image on the right to see the repeaters on an interactive map.
To add or update repeater information, send an email to les(at)w9lrt.com.
| Location | Frequency | Offset | PL | Echolink | IRLP | Owner | Website | Dist |
| --- | --- | --- | --- | --- | --- | --- | --- | --- |
| Bremen, IN | 145.190 | - 0.600 | 131.8 | | | W9LRT | Yes | 0 mi |
| Plymouth, IN | 147.285 | + 0.600 | 131.8 | 147885 | 4330 | K9WZ | Yes | 10 mi |
| Goshen, IN | 146.895 | - 0.600 | 131.8 | | | K9TSM | Yes | 12 mi |
| Mishawaka, IN | 147.090 | + 0.600 | 131.8 | | | N9GVU | No | 13 mi |
| South Bend, IN | 145.290 | - 0.600 | 131.8 | | | N9OCB | No | 13 mi |
| South Bend, IN | 147.330 | + 0.600 | 131.8 | | | W9ANR | Yes | 13 mi |
| Dunlap, IN | 146.745 | - 0.600 | 131.8 | 241475 | | N8AES | Yes | 14 mi |
| Elkhart, IN | 145.430 | - 0.600 | 131.8 | | | AA9DG | Yes | 14 mi |
| Elkhart, IN | 145.250 | + 0.600 | 131.8 | | | KC9GMH | No | 15 mi |
| South Bend, IN | 147.390 | + 0.600 | 131.8 | | | WB9AGX | No | 15 mi |
| South Bend, IN | 147.225 | + 0.600 | 131.8 | | | W9AB | Yes | 17 mi |
| Warsaw, IN | 145.130 | - 0.600 | 141.3 | 242971 | | KC9YCZ | Yes | 21 mi |
| Syracuse, IN | 146.985 | - 0.600 | 131.8 | | | KB9AVO | No | 23 mi |
| Culver, IN | 146.670 | - 0.600 | 131.8 | | | K9ZLQ | No | 24 mi |
| Rochester, IN | 146.805 | - 0.600 | 131.8 | | | KB9WSL | No | 27 mi |
| Ligonier, IN | 147.150 | + 0.600 | 131.8 | | | N9BCP | No | 29 mi |
| LaPorte, IN | 146.610 | - 0.600 | 131.8 | | | K9JSI | Yes | 30 mi |
| Wolflake, IN | 147.270 | + 0.600 | 131.8 | 147270 | | N9MTF | No | 36 mi |
| Michigan City, IN | 146.970 | - 0.600 | 131.8 | 193001 | | W9LY | Yes | 39 mi |
| Knox, IN | 145.410 | - 0.600 | 131.8 | | | KN9OX | Yes | 42 mi |
| Valparaiso, IN | 146.775 | - 0.600 | 131.8 | | | K9PC | Yes | 46 mi |
| Peru, IN | 147.345 | + 0.600 | 131.8 | | | K9ZEV | No | 52 mi |
| Fort Wayne, IN | 146.880 | - 0.600 | 131.8 | | | W9INX | Yes | 59 mi |
| Angola, IN | 147.180 | + 0.600 | 131.8 | | | W9LKI | No | 61 mi |